Our History and Affiliation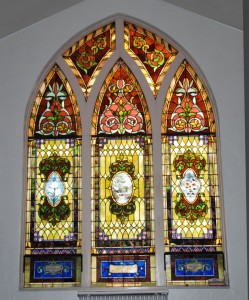 Organized in 1871, the members of the Congregational United Church of Christ built the first church in Humboldt County in 1873. The current building was dedicated in 1904 and boasts lovely stained glass windows in the sanctuary and throughout the main floor.
Steeped in history, bound together by our mutual respect for one another and a common love for Jesus Christ, open to God's divine call for His people, we are an active, committed, and diverse congregation of people seeking to serve the world together.
The governance of this church is vested in its members who exercise the right of control in all its affairs.
****************************************************
Click Photos to Enlarge
UNITED CHURCH OF CHRIST
The United Church of Christ (UCC) is a Protestant Church whose history traces back to Congregationalists of New England, Evangelical and Reformed Churches of Germany, Missions to the Indians, and issues of social justice including the abolition of slavery and the right of women to vote.
The UCC believes that:
Protestant faith is informed and nurtured by the message of the Bible
Individual freedom is nourished in a voluntary community
Responsible church life and responsible citizenship belong together
****************************************************
Links to United Church of Christ Websites: